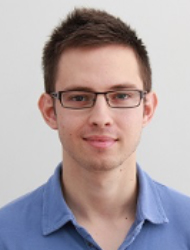 Dénes Zombori
Hello Dénes, please introduce your team's project to us!
Hello everyone, I am Dénes Zombori, one of the four members of the Lookin team. (www.facebook.com/lookin2014). Lookin is a mobile application enabling its users to find out what is happening in clubs in real-time from uploaded photos. It means that those who install our application will be able to search for clubs within a specific area to see what their atmosphere is like. Our goal is to put an end to the uncertainty people feel when deciding where to go to have fun. Without our app, people have been wandering around, visiting 4 or even 5 different clubs a night, standing in lines and wasting money on entrance fees.
Revellers who take a lot of pictures when they are enjoying themselves just need to upload the photo(s) of their choice to the application and from these photos people can easily decide which club to go to.
A trial version is already available in Google Play and our team is continuously working on developing the application further. It's important to note that the app is not just for the people of Debrecen. People will be able to use it all around the world, from Los Angeles to Tokyo.
What did today's training give you?
Since we are planning on entering the international market soon, it was very useful for us that the training was in English. Regarding the training itself, it was a great opportunity for us to clarify our main idea. The members of the Lookin team met here in the Igen Debrecen course for the first time. This means that we are in the process of getting to know each other's personality and work style. Besides, the idea of this app is so new to us that there are a lot of different directions we can take. Preparing our elevator pitch was a perfect opportunity for us to clarify what we want. In addition, by standing in front of a camera, we had a great opportunity to make a conscious effort to use what we learnt and practiced during the training. It was very exciting. We've heard about the tools of nonverbal communication before, but today we had the chance to practice the use of these tools and more: to prepare what we want to say in English and emphasize our message with gestures, posture and voice.
Preparing our elevator pitch was a perfect opportunity for us to clarify what we want.
What did you find the most useful from today's session?
For me that was the opportunity to practice what we have learnt. In addition, John's personality and the way he delivered the training provided a great example to all of us on how to present ideas.