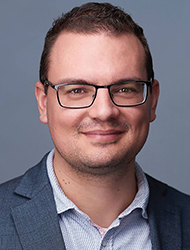 Máté Rab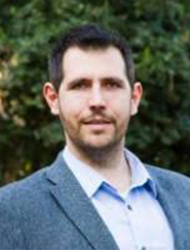 Miklós Kovács
Good evening Debrecen Bár representatives. It's great to have you here tonight. Máte, please introduce yourself.
Máté: Well, thanks John. Good evening and thanks for the interview. My name is Máté Rab, I'm 25 and I graduated as an economist and have been working for the university of Debrecen for 2 years. I'm a marketing coordinator for strategic affairs and previously I was a business development manager. I am also one of the founders of Debrecen Bár and one of the writers, of course.
Ok, thank you Máté. Miklós?
Miklós: I am a columnist at Debrecen Bár and I really love my work. I really enjoy watching TED videos, it's my hobby, I discovered them a month ago and fell in love. I want to learn and develop myself from watching these videos.
Ok, so let me start with a very, very simple question. Why was Debrecen Bár created?
Máté: Ah, just for fun you know (laughs). It was a simple idea that got better and better. We were a small group of young talents meeting every month to discuss topics that we were interested in. The topics could be anything from economic changes to how to fund a business. Between meetings we would often share videos and articles relating to the topics we discussed, and it came to our mind, why don't we start a website, where we can do this in front of a bigger audience. After 2 weeks of planning, we started the first version of Debrecen Bár, which has changed a little but the main concept is the same; be more open to the world, be more international, be more flexible.
Miklós: With Debrecen Bár I feel like a member of the community and I want to transfer that feeling of community to the younger generation, that's my goal for Debrecen Bár.
Ok, this leads me very nicely onto the next question. Who's reading Debrecen Bár?
Máté: Mostly ladies actually :). People in their 20's, they have just graduated or they are close to graduating. Most of them live in Debrecen but we have readers from Budapest and Szeged as well.
Miklós: From every continent in fact.
Máté: Yes, we have many readers from countries other than Hungary, offhand I can think of; Romania, Ukraine, the UK, Malta and the US.
So, who's involved in the writing, can others get involved and how?
Máté: László Tóth is a co-founder of Debrecen Bár, an enthusiastic writer, professional consultant, and has an MA in Political Studies. He's a happy, married, Christian man. Norrka is the leader of our Music column and also graduated as an economist. She's a music, concert and chocolate addict. Zoli is our Green-guy (not the Hulk:)), a perfectionist who has an MSC in agricultural economics and supports a greener environment. And the Movies column is covered by two guys who love movie theaters and TV series: KacsaCsapitány and Duncan. Then, of course, there is myself and Miklós.
Others can get involved; we are open to guest writers. Currently we have around 15 guest writers who usually write their articles and send them to us at hello@debrecenbar.com. We may suggest some changes and after it is published the guest writer can use it as a reference or in any way that they want.
What is the weekly format and are there any changes planned?
Máté: Monday is for music; we like to start the week with a little fun but the article can also be something that encourages you to think. Tuesday is a university topic, or something related to learning so that you can learn something new. Wednesday is the movie and TV series day and Thursday is the business topic. Friday is the green topic; it's great because the writer has a lot of experience in this field. We just changed the Saturday topic from culture to community so that we can be more open to NGO's and programs in Debrecen which ties in with our future plan to create an open-minded, international and business oriented community. Sunday is the International day. We also have a job column which, rather than having a dedicated day, is updated every time we get a new job offer to publish for our audience. We publish the details for free so companies can just send us their job offers and all of our followers will see them.
Also, you asked about the future plans and changes. There is a group of people from Debrecen who have come up with the idea of getting the city onto the Forbes "World's 10 Best Places to Live" list by 2050. With this idea in mind we may change the topics and dedicate them more to this idea, so the articles will be focused on how you as an individual can help.
There is a group of people from Debrecen who have come up with the idea of getting the city onto the Forbes "World's 10 Best Places to Live" list by 2050.
What example articles can you tell us about?
Miklós: I can give you an example article which was about a TED video on how to start a movement and how important it is to be the first follower of a movement (link). The TED presenter uses a video to show how a guy at a festival started to dance and after 3 minutes everybody followed. At first there were only 2 or 3 people who started dancing with him then it became viral, so it shows how the first follower can determine the success of a movement.
Máté: Let me talk a little about some of the content from the business and international topics. We want to show the young generation how to be entrepreneurs so we list many good and bad examples of starting up your own company. As well as showing how easy it is to create and start a company we want to show them a bunch of articles on how to sell themselves, how to create their resume, how to find a job, how and when to quit from your job and that it is ok to quit if you are not happy.

So, most of the articles are in Hungarian at the moment. Are there any plans to have articles in English?
Máté: One of the ideas, around the time we created Debrecen Bár, was to publish all the articles in English and Hungarian but unfortunately it was going to take far too much time to manage it all.
Miklós: We have two English articles at the moment; one is a promotion for Erasmus, how a Polish girl experienced and spent her time in Debrecen, the other is about how foreigners see the north eastern region of Hungary. We want to publish more in English, but at the moment we are not sure how best to manage this issue of the 2 languages. For now, we will try to publish as many English articles as we can.
Ok, let's take a slightly different direction. We have seen some major changes at The University of Debrecen in recent years, especially with many more foreign students enrolling. What are the implications of these changes?
Máté: The University of Debrecen wants to be more open to attracting new segments of students, currently we have the highest number of foreign students learning in English at any university in Hungary. We want to open our doors to students from other countries. Hungarian degrees, in medicine for example, are well known and reputable. Secondly, we are planning to offer e-learning or distant learning and last but not least, the university wants to finish in the black, which means that we need more resources to keep our heads above the water and to meet our financial expectations. For this to happen we need to get more support from the government we need to find more sources of income and we need to be more business oriented.
Why should prospective students choose Debrecen as their university location? So, I am thinking about the university itself, the city and the surrounding area.
Máté: The university is a European university. Within the walls you can find everything in both languages, English and Hungarian, and you can order many services in English in Debrecen, from a taxi to your lunch or dinner. Also, there are clubs dedicated to foreigners, there are special occasions and special offers for foreigners as well such as http://www.eatmecard.com. Here in Debrecen the cost of living is very low, especially for foreigners. Many people fall in love with the city, it's beautiful here and you can have lots of fun. We have a great park, lots of greenery, museums, theatres, cinemas.
Miklós: There are the surrounding areas also; like Hajdúszoboszló and Tokaj, and Nagyvárad (Oradea) is not so far away. So, within 2 hours you can visit and experience another country. Nowadays you can travel easily from Debrecen by plane. From Debrecen airport you can fly to Milan, Eindhoven and London, so it is an internationally connected city. It's a good place for the younger generation because the university parties are the biggest here 🙂
So, what difficulties do university leavers in Debrecen and the rest of Hungary face?
Miklós: I'm a university leaver, so maybe I am the best person to answer that. There are some international companies in Debrecen, like IT Services and National Instruments, they are hiring in specialized areas and if you have good English, a Slavic language or another language there are opportunities at these companies for you. Like many other parts of Europe and the world, Hungary is in recession so there is a lack of opportunities, especially if you want to find the perfect job in Debrecen. If you want to work professionally in the field of marketing, for example, then Debrecen is a difficult place to find a job because of the very high competition for jobs in that area.
Máté: Yes, it's true and it really depends on what degree you are taking. It's easier to find work as a biologist or micro-biologist, same applies if you are a language teacher or looking for a job in IT or as a programmer. There are plenty of jobs in these fields.
Miklós: One final point on this; I studied English at the Economics faculty at the university with a good native English teacher but I still lacked confidence when speaking English. I really needed to participate on the Erasmus program to make my English more professional and build my confidence. If you do not speak a foreign language at a high level it is hard to be a university leaver here. Even more workplaces in Hungary ask for another language at intermediate level, but you have to improve yourself in other areas aside from what you learn at university and that's really why we have Debrecen Bár.
And finally, how can Debrecen Bár evolve to continue providing a service for its readers?
Miklós: We've thought about this a lot, we wanted to start a co-working office, maybe it could start off as a forum for Debrecen Bár, a meeting and working place for the team.
Máté: If we offer both the knowledge of how to be an entrepreneur and the facility of the co-working office for young people then we can be providing a great service.
Miklós: We are not so old and experienced that we can provide a "learn from us" service but we can evolve like a community and give examples of how to live your life and how to improve yourself. I don't think there are so many people in Hungary who act out their dreams when they start university. I started realising my dream after I attended the Erasmus Program, so Erasmus was the start for me. Now we want Debrecen Bár to be the spark that can help people realise that they can live their dreams in Debrecen. So, with Debrecen Bár we need to continue thinking about our audience's needs.
…we want Debrecen Bár to be the spark that can help people realise that they can live their dreams in Debrecen.
Máté: I think we should always focus on the young generation. They are just leaving university and they are starting to live their dreams before they settle down and have a family, so they have time and there are a lot of opportunities ahead for them in Debrecen. It's good if we have younger readers and we can help them to decide whether they should study, work and live in Debrecen or have the courage to gain experience abroad and maybe come back someday. Regardless, Debrecen Bár will always be the place for thought-provoking topics over a coffee or a beer.
With the kind permission of Debrecen Bár, https://debrecenbar.wordpress.com/